Industry Factsheet
Newsletter Signup
Overview
Pennsylvania's legacy in the life sciences began with the establishment of the first hospital in the United States in Philadelphia, but today it's evidenced by our mature life sciences ecosystem where companies at all stages succeed and can find support from economic development experts and fellow business owners alike.
Life Sciences in PA
There are thousands of companies across the state making advances in various areas of the life sciences. Watch how four of these companies are pushing the limits of technology with creative solutions in a number of fields, including Alzheimer's disease research and therapeutics, chronic pain medication delivery, motion technology-centric medical devices, and respiratory dialysis.
Pennsylvania Life Sciences at a Glance
Pennsylvania Life Sciences at a Glance
Workforce
A world-class workforce begins with a world-class education, and in Pennsylvania, we have both. A key component of Pennsylvania's life sciences ecosystem is its nearly 300 universities and more than 168,000 annual graduates. They're where many of our successful tech businesses found their start, and businesses in our tech and research hubs benefit every day by tapping into our university talent pool to provide unique collaborative experiences that provide companies with unique solutions and students with hands-on experience. These institutions also continue to develop groundbreaking research that transitions into the marketplace through products, medicines, medical equipment, and patents.
| Industry | Employment | Establishments |
| --- | --- | --- |
| Research, Testing, and Medical Laboratories | 26,252 | 1,055 |
| Drugs and Pharmaceuticals | 19,170 | 116 |
| Bioscience-Related Distribution | 16,167 | 816 |
| Medical Devices and Equipment | 15,958 | 286 |
| Agricultural Feedstock & Chemicals | 747 | 37 |
Education
Our world-ranking universities have the resources needed to innovate and succeed in life sciences research.
| Top NIH-Funded PA Universities, 2015 | Amount |
| --- | --- |
| University of Pennsylvania | $180,637,232 |
| University of Pittsburgh | $176,235,099 |
| Pennsylvania State University | $18,577,693 |
| Drexel University | $10,480,847 |
| Carnegie-Mellon University | $6,202,263 |
First-of-its-kind Cancer Immunotherapy Institute
Recently, the University of Pennsylvania — ranked in the top 30 universities in the world for life sciences by Times Higher Education — became one of only six medical schools in the country to join the Parker Institute for Cancer Immunotherapy. The Institute is the first of its kind, uniting the U.S.'s top medical schools in an effort to accelerate breakthrough immunology research and cure more types of cancer.
2 rated in the top 50 universities for life sciences in the world
2 of top 20 global universities for biology and biochemistry
4th in the country for its R&D expenditures
4 universities ranked among top universities for their percentage of STEM degrees conferred
5th in the U.S. for its total number of bioscience-related patents
Companies in PA
More than 2,300 life sciences establishments and over 78,000 employees call Pennsylvania their home, and for good reason. Our state has high rankings across the board for key measures of life sciences R&D and innovation, including academic R&D, NIH research funding, venture capital investments, patenting. It also holds specialized employment concentrations in drugs and pharmaceuticals and research, testing, and medical labs, with larger employment in medical devices and bioscience-related distribution. Its total life sciences employment concentration is 10 percent greater than the national average.
Top 6 Life Science Employers
Merck Sharp & Dohme Corporation

Merck Sharp & Dohme Corp.engages in the production and distribution of vaccines, prescription products, oncology products, consumer products, animal health products, and biologic therapies for customers around the world.

Quest Diagnostics Incorporated

Quest Diagnostics Inc. offers a wide range of products and services that benefit patients, healthcare providers, and pharmaceutical medical device companies, life insurance companies and employers.

Aventis Pasteur Incorporated

Aventis Pasteur Inc. is a world leader in vaccines with the broadest range of products producing more than one billion doses of vaccines every year to immunize 500 million people around the world.

Bayer Healthcare LLC.

Bayer is a Life Science company with a more than 150-year history and core competencies in the areas of health care and agriculture.

Teva Pharmaceuticals USA Incorporated

As a manufacturer of brand and generic pharmaceuticals, Teva Pharmaceuticals USA Inc. is working every day to make quality healthcare accessible.

McNeil-PPC Incorporated

McNeil-PPC Inc. markets a broad range of well-known and trusted OTC products around the globe. They are most widely recognized for the complete line of TYLENOL® acetaminophen products, the leading brand of pain reliever/fever reducer in the adult and pediatric categories.
Other PA Life Sciences Companies:
Pennsylvania Economic Quarterly: Life Sciences in the Keystone State
This edition of the Economic Quarterly focuses on Pennsylvania's robust life sciences industry, with a particular focus on pharmaceuticals; research, testing and medical labs; medical device manufacturing; and diagnostics.
Pennsylvania Economic Quarterly
The life sciences industry comes to life in many unexpected ways in the Keystone State.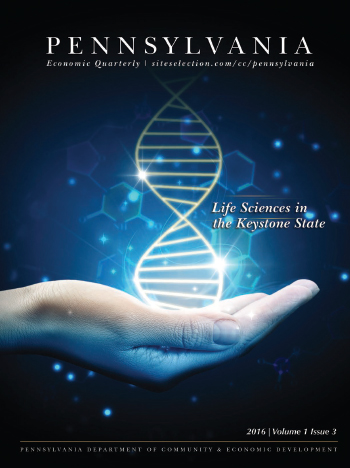 View the digital edition.